Improving your cardiovascular health and improving your muscle tone and abs are two of the intended outcomes of practicing regular exercise. There are countless other physical and wellbeing benefits involved, but getting the right nutrients in can make a huge difference to your health.
The following nutrients can provide the most health benefits when it comes to improving your exercise workout…
1. D-Ribose
D-Ribose is a key nutrient that's key to energy production within the body, including the heart. D-Ribose is similar to and looks like sugar but if a single dose of this is taken on a daily dose for six weeks it can boost your energy levels and improve the overall functioning of your heart.
2. Magnesium
This is a mineral that can help to maintain cardiovascular rhythms and increase the strength of the heart muscle, keeping the rhythms both steady and smooth. Topical magnesium is highly recommended as it can be readily absorbed into the skin on a cellular level. Ancient Magnesium Oil from Good Health Naturally as it is the only magnesium supplement to also contain OptiMSM which dramatically improves absorption.
3. Co-enzyme Q10
This is a heart healthy nutrient that is important for anyone on cholesterol lowering medications. When you are depleted of CoQ10, you are more at risk of cardiovascular disease. UB8Q10 is the suggested supplement from Good Health Naturally and is 8x better utilised compared to ordinary CoQ10. UB8Q10 is considered as a powerful antioxidant and is present in all animal, human and plant cells. CoQ10 is vital for fueling every cell and process in the body.
4. Omega-3 fatty acids
These are beneficial for heart health and it's recommended to take a combination of DHA (docosahexaenoic acid) and EPA (eicosapentaenoic acid) daily. Concentrated omega 3, 6 and 9 oils can be derived from crustaceans such as krill and are found in The Krill Miracle from Good Health Naturally is shown in studies to be 6x better than fish oil. This supplement can powerfully reduce inflammation, while supporting a healthy immune system and cholesterol lipid levels. The vegetarian alternative is Hemp Seed Oil which is derived from the hemp plant and is also called The King of Oils as it also contains Omega 9.
5. B-Vitamins
Supplementing with B vitamins can help to improve conditions such as congestive heart failure. B vitamins can also slow heart disease progression by reducing homocysteine levels in the blood. This is an amino acid that's linked to damage within the cell walls of arteries that can cause blood clots and strokes. B4 Health Spray from Good Health Naturally is highly recommended for this purpose as it is the most complete B complex as well as the most absorbable being taken under the tongue.
6. Zinc
This is a powerful antioxidant that can increase the risks of heart attacks. A study showed that people aged 56-83 who took zinc supplements were shown to have decreased biomarkers for heart disease and inflammation, including the C-reactive protein. Zinc has also been shown to reduce the risk for diabetics who have double the risk of having a stroke or a heart attack. 15mg of Zinc can be found in the suggested supplement known as Active Life, available from Good Health Naturally which also contains 130 nutrients.
7. Hawthorn
This is a plant that's effective at strengthening and improving the heart muscle, encouraging more blood flow into the heart.  In an analysis of 14 rigorous studies that involved more than 1000 people, hawthorn was found to be highly effective for the heart. Found in Good Health Naturally's HartGuard, this is a highly absorbable form taken under the tongue.
Recommended Examples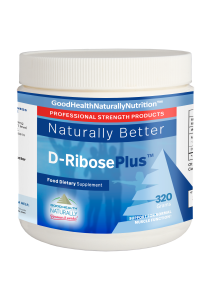 D-Ribose Plus™ – Ribose (a 5-carbon natural sugar) is a critical part of ATP production, essential for cellular health and growth. Supports energy reserves, and recovery from sports and conditions of fatigue. Helps product ATP for the heart and muscles. Available from Good Health Naturally.
Ancient Magnesium Oil Ultra – 100% Zechstein Magnesium Oil, professional strength. All the benefits of Magnesium Oil PLUS OptiMSM, the world's purest MSM for improved absorbability into skin and tissue. Essential for good health, sore muscles, leg cramps, headaches, migraines and various body aches. Available from Good Health Naturally.
UB8Q10 Ubiquinol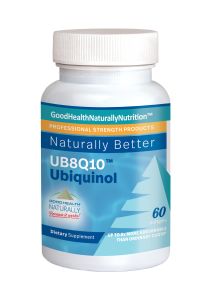 – UB8Q10 is a CoEnzyme Q10 that is up to 8 times better absorbed compared to ordinary CoQ10. Contains Coenzyme Q10 that fuels each cell and every process in the body. Considered the body's powerhouse enhancer and antioxidant.

The Krill Miracle™ –
Made using Superba Boost™ Krill Oil, a next-generation krill oil concentrate. Contains a super-rich source of Omega 3, 6 and 9 oils that contain EPA/DHA that contribute to supporting your general health. Available from Good Health Naturally.

B4 Health Spray – 

Contains a full Vitamin B Complex and superior delivery for improved absorption. Supports many body processes for optimal health. Available from Good Health Naturally.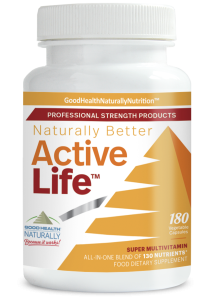 Active Life™ Capsules – A full spectrum multivitamin/mineral formula containing essential B vitamins to support good health. Contains 130 nutrients in each capsule, along with a patented form of 5-MTHF Folate. Available from Good Health Naturally.
HartGard™  – Support for heart function. Sublingual drops of essential nutrients, formulated based upon many published studies to protect against heart disease and strokes. It contains a powerful blend of: Hawthorn berry extract, Coleus Forskohlii, Lutein, Zeaxanthin, and Gingko Biloba Extract. Available from Good Health Naturally.