Naturally Healthy News is a free health magazine that explores the latest health news and developments to bring you scientifically backed nutrition and lifestyle advice, so you and your family can achieve good health.
It is in the interest of many establishment organisations around the world to sell us their medicine and drugs, rather than helping us to find natural ways to achieve good health. At Naturally Healthy News, we have made it our mission to research the causes of disease and promote dietary and lifestyle solutions.
Brought to you by the Redfern family, Naturally Healthy News magazine was originally created by our late founder Robert Redfern to share independent health research and innovative health solutions, based on the latest in scientific research.
Alongside the magazine, Robert also wrote many health eBooks giving lifestyle advice and product recommendations, providing health plans for a variety of conditions, that have successfully helped thousands of people in their own health recovery. His work lives on in our team of Expert Health Coaches who can answer any health questions about the plans and product recommendations found in any of the books or magazines.
Start your good health journey today, by downloading the latest version of Naturally Healthy News magazine.
Take good care of yourself,
The Redfern Family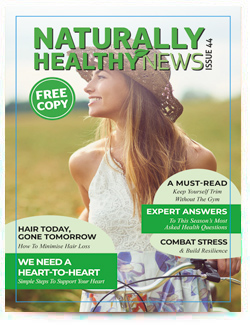 Latest Naturally Healthy News N°44
If you want to be informed about natural health and how you can achieve a really healthy future, then sign up here on the right. For 20 years, we have been writing articles, newsletters and HealthBooks, based upon independent research as well as feedback from hundreds of thousands of users of health plans and their success stories. Below you can find my earlier Naturally Healthy News magazine.
Download our latest, only fill in the form.
Take good care


Earlier Naturally Healthy News (FREE)