Following on from the amazing victory for The Lionesses, the English women's football team have been hailed as heroes – and an inspiration for many – especially young girls and women. This is thanks to their triumphant win over Germany at the Women's EURO 2022 Championships last weekend.
The Lionesses' win is testament to all of their hard work, along with the level of fitness training that these athletes endured to ensure they were championship-ready.
The team's win will undoubtedly inspire new generations to focus on improving their general fitness. It's a good habit to develop when young, as studies show that low levels of physical activity in young people have been linked to increased rates of obesity, cardiovascular disease and poor mental health as adults.
As interest in football and sports grows, more young people may therefore develop healthy habits around these activities, that ensure they stay fit and healthy for life.
Staying Active – The Key To Good Health
Exercise plays a powerful role in ensuring you stay healthy. Regular physical activity can improve your muscle strength and boost your endurance, for example. It also delivers oxygen and nutrients to your tissues, helping your cardiovascular system to work more efficiently.
Physical exercise may also reduce your risk of developing several diseases including Type 2 Diabetes, cancer and cardiovascular disease. It may help with weight management and research shows it can help you to have stronger bones, muscles and joints, along with lowering your risk of developing osteoporosis.
A recent story in the mainstream media even highlighted how exercise has benefits for longevity. This is because of a centenarian fitness fanatic who has shared how going to the gym three times a week has helped her to live over the age of 100. Her advice to younger people is to 'try hard' and 'just keep moving' when it comes to achieving good health.
From football to cycling, aerobics, swimming or yoga, there is an activity to suit every lifestyle – meaning there are so many great reasons to stay active for good health. While adults are recommended to do some form of physical activity every day, even exercising just once or twice a week can help to reduce the risk of heart disease or stroke.
The recommended amount of exercise per week is to do at least 150 minutes of moderate intensity activity, or 75 minutes of vigorous intensity activity a week. The exercise is best spread evenly over 4 to 5 days a week, or every day for best results.
The Human Body Is Designed To Move
It's also recommended to reduce the time you spend sitting or lying down, and to break up long periods of not moving by remembering to get up and walk, stretch, etc.
Sitting down all day in an office for eight hours a day can also be bad for your health. Studies show that sitting for extended periods of time can shorten your life.
Along with back and spinal problems, sitting down all day encourages weight gain, may raise your risk of dementia and increase Deep Vein Thrombosis (DVT). This is because when your legs don't move for hours, the calf muscles don't contract and so, the blood doesn't circulate as freely. Not moving your legs for extended periods of time may therefore mean that blood clots are more likely to form.
Choosing to stand at your desk, by using a standing desk is an option that can help you to avoid these issues. A standing desk is a good choice as it allows you to adjust the height of your desk, meaning that you can choose to stand or sit as your body feels like it.
Key Nutrients For Active People
If you are following an active lifestyle, it's important to ensure you are getting enough essential nutrients for best health.
Athletes, gym enthusiasts and more active individuals may need different nutrition requirements for example, as they expend more energy during activities than the average person.
To support your active lifestyle, for a limited time only you can now save 15% on Good Health Naturally's award-winning Ancient Magnesium Cool Relief.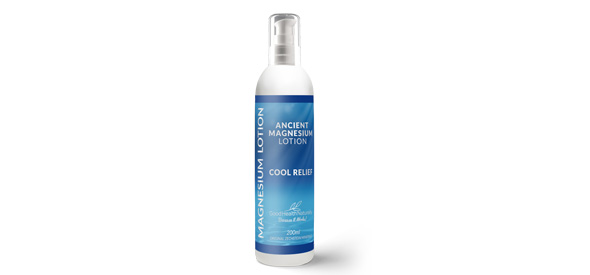 SAVE 15% –Ancient Magnesium Lotion Cool Relief – 200ml
This topical solution can increase Magnesium levels, prodiving faster relief for exercise-induced inflammation, while therapeutic menthol can provide an instant cooling sensation for natural relief of sore muscles, leg cramps and various body aches.
We also recommend the following nutrients for good health
and post-exercise recovery support…


A full spectrum multivitamin/mineral formula providing 130 nutrients in each capsule, providing a solid foundation for all of your nutritional needs
Includes a full Vitamin B-Complex and the active form of folate, 5-MTHF for those who cannot metabolise synthetic folic acid
Suitable for vegetarians
L-Carnitine and CoQ10 can support energy levels and ATP production
May help to burn fat
Support the body's fight against free radical damage
Meriva® Curcumin, the most clinically studied Curcumin for superior bioavailability
Provides powerful natural anti-inflammatory and antioxidant benefits
Supports cardiovascular health and studies show it may help to reduce inflammation, while improving muscle damage and muscle performance