As the largest organ on the body, skin plays a powerful role in helping you to look and feel your best. When you feel healthy, it shows in your appearance too. Youthful looking skin is considered to be one of the biggest indications of good health and it's why so many of us spend money on anti-ageing creams to look and feel younger than our years.
When you give your body the right nutrition, you can begin to prevent the premature ageing process. Your skin needs the right balance of nutrients to look and feel good, from the inside out. By choosing to nourish your body with the correct nutrients first, you can potentially reduce fine lines and wrinkles before they have a chance to appear. This can help to make you look younger. 
Here are just some of the most important nutrients we recommend for best skin health and anti-ageing… 
How The Right Nutrition Nourishes Youthful Skin From Within
Healthy Fats
Omega 3 Essential Fatty Acids can help to regulate the skin's oil production, improve hydration balance and reduce any potential breakouts, along with minimising the first signs of ageing. Omega 3 fatty acids may also protect against the sun's harmful ultraviolet (UVA) and ultraviolet (UVB) rays that can cause premature ageing. Research also suggests that Omega-3 fatty acids can change the balance of oils in the diet and this key biological process is linked to reducing the signs of ageing. [1]
Collagen 
As a major component of skin, collagen gives your skin a plump, youthful look by enhancing its elasticity and hydration. Several studies have also shown that taking collagen supplements containing collagen peptides may help with slowing skin ageing by reducing dryness and wrinkles. [2] 
Vitamin A
Being an antioxidant, Vitamin A seems to prevent sun damage by interrupting the process of breaking down collagen. Vitamin A also contains retinoid compounds that can perform various jobs for skincare protection including minimising fine lines and wrinkles, and boosting collagen production. [3]
Vitamin A can also fight signs of UV damage that may cause hyperpigmentation and sunspots that may otherwise make someone look older. It's also good for preventing acne by preventing clogged pores and skin inflammation [4]. Taking Vitamin A is also recommended for stimulating the production of new blood vessels and promoting the wound healing process.
Vitamin C
Ageing causes a decline in Vitamin C content, so it's important to replenish your stores. As a potent antioxidant, Vitamin C can promote the collagen production which thickens the dermis, reduces fine lines and provides support for firm, youthful skin [5]. It can also protect skin cells from damaging free radicals caused by UV exposure. Research also indicates that taking a Vitamin C supplement can effectively boost Vitamin C levels, therefore helping to keep skin firm and reduce fine lines and wrinkles. 
Vitamin E
As an essential nutrient, Vitamin E has potent antioxidant properties that can help to maintain healthy skin and eyes, strengthening the body's natural defenses against illness and infection. Vitamin E is also considered an anti-inflammatory that can help to prevent inflammatory damage after UV exposure. It's also recommended for reducing any kind of skin inflammation including skin swelling, skin itching and may also be useful for conditions like eczema and psoriasis. [6]
Selenium
A vital mineral for good health, Selenium can protect skin elasticity and firmness, ensuring a more youthful complexion. By stopping free radical damage, Selenium can also prevent premature wrinkles before they form. Selenium also plays an important role in protecting cell membranes against UV damage, inflammation and pigmentation. This may help to slow the ageing process, therefore making it beneficial for skin health. [7]
Getting enough of all these nutrients by themselves can be challenging. However, by combining them in a daily multivitamin, it's possible to ensure you are getting enough for achieving optimal health that may support the anti-ageing process.
Taking a collagen supplement can also slow skin ageing by reducing the appearance of fine lines and wrinkles. Consuming collagen is especially recommended for older people such as women, as it can increase bone density and may potentially prevent conditions such as osteoporosis from occurring. 
References:
[1] https://www.sciencedirect.com/science/article/abs/pii/S0889159112001183?via%3Dihub
[2] https://pubmed.ncbi.nlm.nih.gov/25660807/
[3] https://www.ncbi.nlm.nih.gov/pmc/articles/PMC6835901/
[4 ] https://pubmed.ncbi.nlm.nih.gov/23826827/
[5] https://www.ncbi.nlm.nih.gov/pmc/articles/PMC5579659/
[6] https://www.karger.com/Article/FullText/510653
[7] https://link.springer.com/article/10.1007/s40520-018-1086-7
Joint & Skin Matrix™ –  Contains collagen, the main structural protein of various connective tissues. Supports skin and joint collagen, strengthening blood vessels and giving skin its elasticity and strength. Available from Good Health Naturally.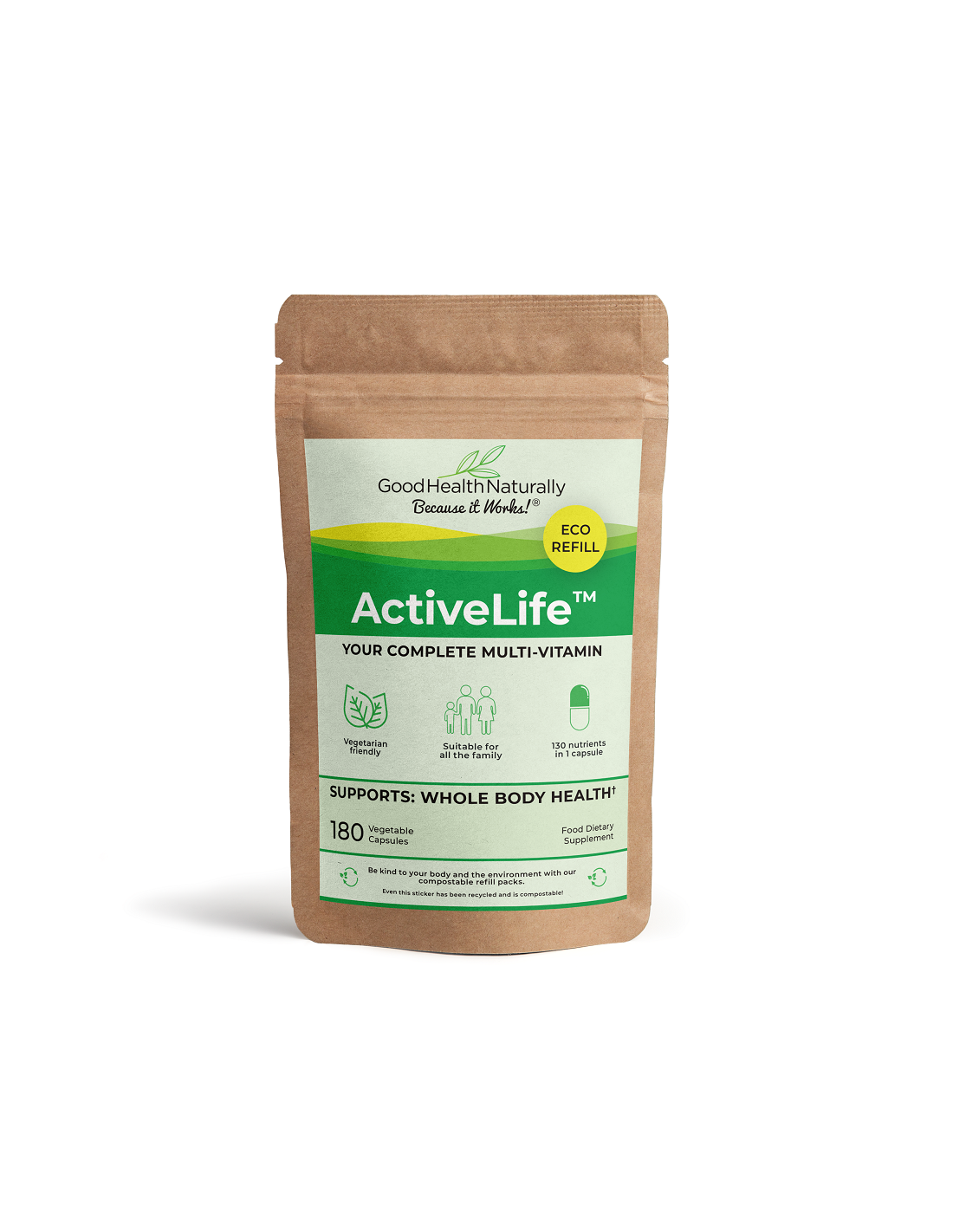 Active Life™ – Provides 800mcg, 500% of Folate as (6S)-5-methyltetrahydrofolic acid) (equivalent to 1600mcg of (6S)-5-methyltetrahydrofolic acid, glucosamine salt*** (Quatrefolic®) ), along with 80mg, 588% of Niacian Vitamin B3 (from Niacinamide), plus other essential nutrients for a total of 130 vitamins, minerals and nutrients. Recommended for optimal health support. Available from Good Health Naturally.
Vitamin E Tocopherols – 100% Natural Vitamin E formulation providing tocotrienols and tocopherols that are essential for good health. Vitamin E plays a powerful role in cell health, reproductive health, healthy skin, hair and nails, cardio protection, cholesterol, immune system function along with heart, brain and digestive health. Available from Good Health Naturally.