Black Seed Oil is a powerful oil you should consider adding into your health and wellness routine. Commonly caused Black Cumin Seed Oil, its seeds are derived from the black cumin (Nigella Sativa) plant.
Rich in three key natural chemicals, Black Seed Oil is well known for its phytochemicals. This includes:
Renowned for its anti-inflammatory, antioxidant and anti-cancer properties. Studies suggest it may protect brain health, help with treating asthma and lowering blood sugar levels.
As a natural acetylcholinesterase (AChE) inhibitor, it can be used for treating brain health conditions like Alzheimer's, autism, neurodegenerative conditions, along with schizophrenia and Parkinson's. May be beneficial for reducing arthritis symptoms.
It's anti-inflammatory and anti-bacterial properties make it effective at reducing inflammation and infection. Commonly used as a tuberculocide and virucide to kill TB and various viruses. Beneficial for oral health, being commonly used in mouthwashes and even cosmetics.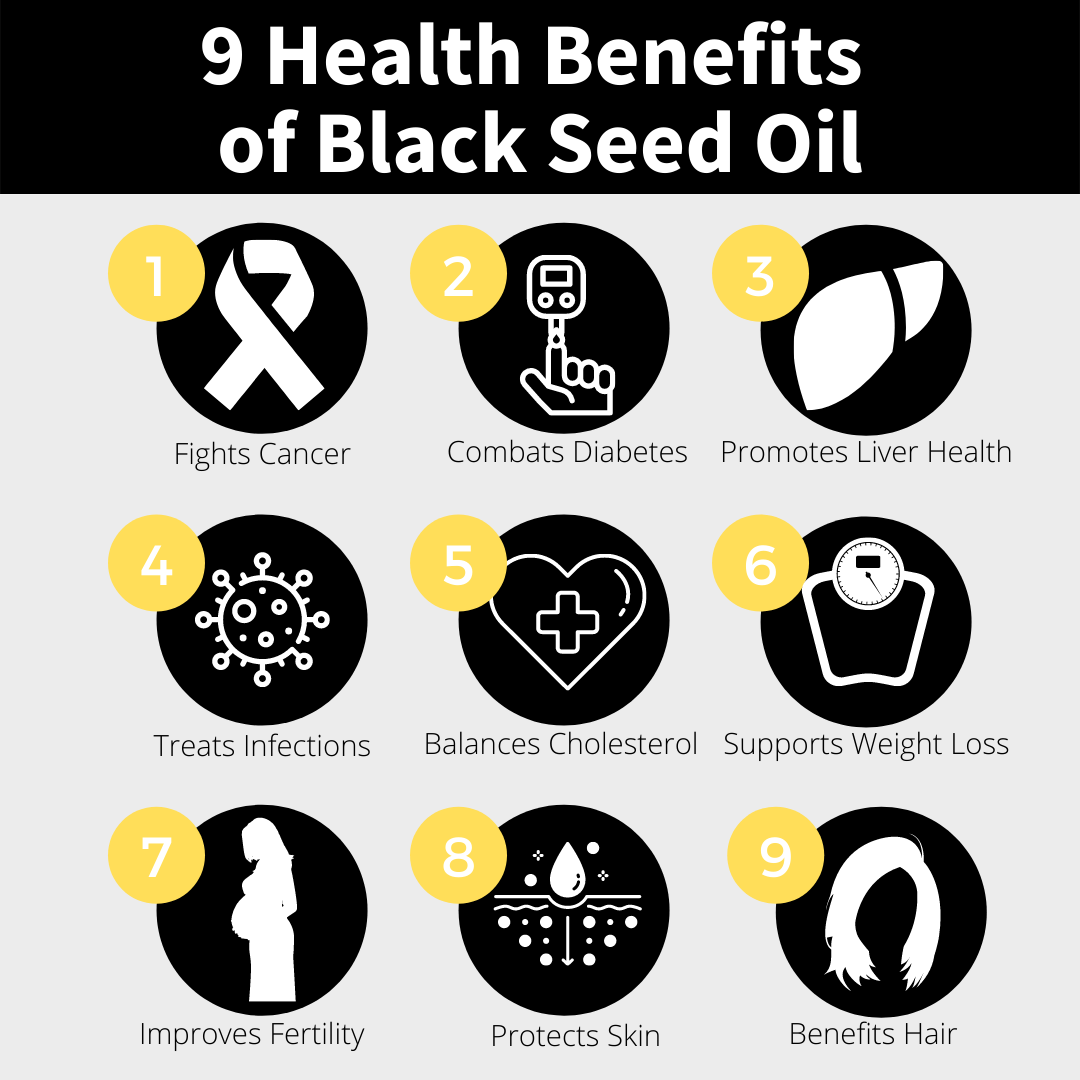 Along with these powerful phytochemicals, Black Seed Oil provides the following health benefits…
Fights Cancer

The potent phytochemicals and antioxidant properties in Black Seed Oil have been shown to help naturally treat cancer. In one animal model study, the antitumor activity of thymoquinone and thymohydroquinone resulted in a 52 percent decrease in tumor cells. [1]
Combats Diabetes

Black Seeds or Nigella sativa, has been found to be one of the few substances that can help with both Type 1 and Type 2 Diabetes. Black Seed Oil has been shown in studies to improve glucose tolerance as efficiently as Metformin (a medicine used to treat Type 2 diabetes which can cause various side effects). Black Seed Oil has not yet been shown to have any significant adverse effects as it has very low toxicity. [2]
Promotes Liver Health

Black Seed Oil has been shown in a study to benefit liver function and to help prevent both damage and disease. [3] This is important as your liver is essential for good health. Nearly every toxin gets processed through this organ and the liver also plays an important role in digesting fats, while keeping your mind and body both healthy and happy.
Methicillin resistant staphylococcus aureus (MRSA) is a superbug that plagues hospitals and nursing homes worldwide as ordinary staph infections are becoming resistant to generic antibiotics. Due to the population's weakened immunity, MRSA has become a global public health risk.
Research shows that Black Seed Oil has a unique chemical constituency that works both individually and collectively. By analysing the compounds in Black Seed Oil, it has been found to have antifungal properties.
Scientists have also discovered that they can help to slow down or stop the MRSA from spreading out of control. [4] By testing thymol, TQ and THQ against 30 human pathogens, they discovered that each compound showed 100 percent inhibition for the 30 pathogens they evaluated.
Thymoquinone was found to be the best antifungal compound, followed by thymohydroquinone and thymol. While Thymol was the best antifungal against molds, followed by TQ and THQ.
Researchers concluded that fungus and molds cannot exist in the presence of these phytochemicals. Therefore, taking Black Seed Oil may be a natural solution for the superbug problem.
Balances Cholesterol 

Various studies show that Black Seed Oil can have anti-diabetic effects on animal studies, but it also helps with cholesterol too. Following a six week study on diabetic animal subjects given low doses of black seed, the total cholesterol, LDL ("bad") cholesterol and glucose levels all came down while HDL ("good") cholesterol increased. [5]

Those who took a Black Seed Oil supplement for eight weeks found that their systolic blood pressure and diastolic blood pressure decreased in a "dose-dependent manner". Taking a Black Seed Oil supplement was also shown to have caused a "significant decline" in both total cholesterol and LDL cholesterol. [6]
Supports Weight Loss

Anyone who wants to lose weight should consider adding a spoonful of  Black Seed Oil into their smoothie or salad. That's because a systematic review of Black Seed Oil in the Journal of Diabetes and Metabolic Disorders has found it to have anti-obesity properties that make it one of the most effective natural remedies on the planet. [7] Taking a Black Oil supplement was also shown to decrease body mass index (BMI) and waist circumference. [8]
Improves Fertility

Researchers have found that Black Seed Oil may help to naturally improve fertility. One randomised, double-blind, placebo-controlled clinical trial evaluated Black Seed Oil and found it could help infertile male subjects with abnormal sperm. Those in the Black Seed Oil group who take 2.5 milliliters orally twice a day for two months, were found to have improvements in their sperm count as well as sperm motility and semen volume. Black Seed Oil was also found to positively influence sperm production, reproductive organs and sexual hormones according to one review published in 2015 in the Journal of Herbal Medicine. [9]
Protects Skin

Nigella Sativa has been found to be as effective as the Betamethasone skin cream when it comes to improving quality of life and decreasing the severity of hand eczema symptoms. [10] It's considered a safe alternative as Betamethasone is associated with various side effects and symptoms such as swelling in the face or hands, chest tightness, trouble breathing, skin colour changes, easy bruising, muscle weakness and more.
Benefits Hair

As it contains Nigellone that has been found to be an antihistamine, Black Seed Oil may help with hair loss caused by conditions like alopecia. Due to its anti-inflammatory, antibacterial and antioxidant properties, Black Seed Oil can be safely massaged into the scalp to discourage dandruff and dryness, while improving the health of your hair. [11]
For all of these above reasons, if anyone wants to boost their overall good health and wellbeing, it's highly recommended to take Black Seed Oil as part of a healthy lifestyle.
References:
[1] https://pubmed.ncbi.nlm.nih.gov/17080016/
[2] https://www.jofem.org/index.php/jofem/article/viewArticle/15/15
[3] ​​https://pubmed.ncbi.nlm.nih.gov/23543440/
[4] https://www.ajol.info/index.php/ejbmb/article/view/60802
[5] https://pubmed.ncbi.nlm.nih.gov/29479371/
[6] https://pubmed.ncbi.nlm.nih.gov/18705755/
[7] https://pubmed.ncbi.nlm.nih.gov/23777875/
[8] https://pubmed.ncbi.nlm.nih.gov/29559374/
[9] https://www.researchgate.net/publication/274140007_Effects_of_black_seeds_Nigella_sativa_on_male_infertility_A_systematic_review
[10] https://pubmed.ncbi.nlm.nih.gov/23198836/
[11] https://www.researchgate.net/publication/5631410_The_Effect_of_Nigellone_and_Thymoquinone_on_Inhibiting_Trachea_Contraction_and_Mucociliary_Clearance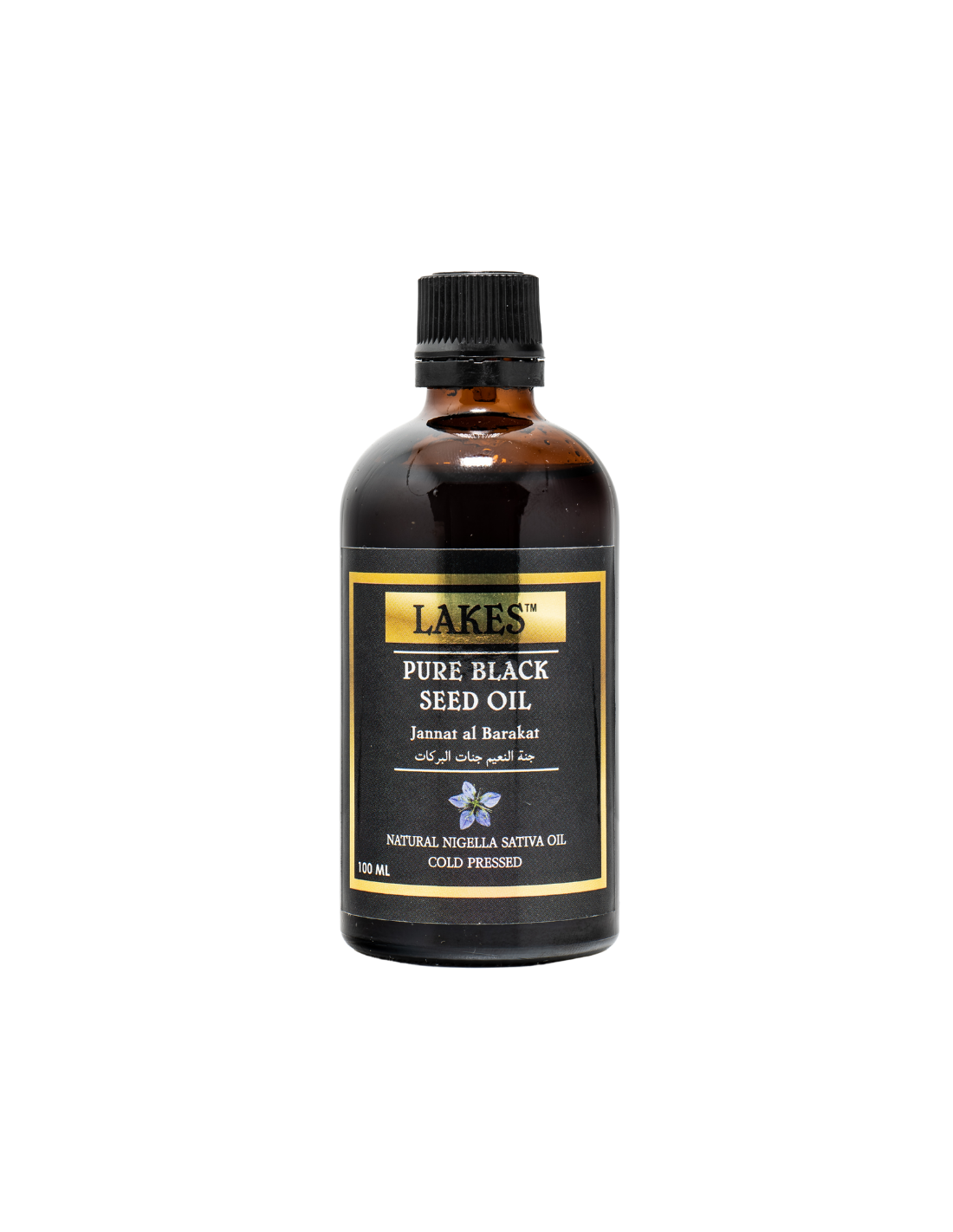 Lakes Pure Black Seed Oil
Lakes Pure Black Seed Oil – 100% Cold Pressed Black Seed Oil is rich in nutrients and anti-inflammatory and antioxidant benefits. Can support a range of health conditions including liver and digestion, heart, lung health, cell health and immune health. Recommended for best skin and hair health. Internally, it can be used by adding to a smoothie or salad dressing or taken off the spoon with a little organic honey (to taste). Externally, it can be applied locally to skin as required or massaged into the scalp as needed. Available from Good Health Naturally.