Curcumin gives a natural boost to your beauty regime in numerous ways. Since Ancient times, this active compound, derived from the popular golden-yellow spice called turmeric, has been known for its beneficial healing properties. 
For centuries, women throughout Asia have been known to use turmeric paste on their faces to promote clear, healthy looking skin. By applying the paste to their skin, turmeric was found to reduce blemishes, redness and any signs of inflammation. The natural anti-inflammatory properties have also been found to boost skin's natural glow.
As the main active compound in turmeric, Curcumin has powerful antioxidant and anti-inflammatory properties that are recognised for their abilities to promote good skin health. Here are just four ways that Curcumin can give your beauty and wellness regime a natural boost…
1. May Help with Healing Wounds
There are numerous studies demonstrating how Curcumin has been shown to have significant wound healing properties. [1] Curcumin's antioxidant and anti-inflammatory properties may help to speed up the stages of wound healing meaning you can quickly stave off infection and the body can begin to develop new tissue. Research shows that applying topical Curcumin can have maximum therapeutic effects on skin wounds. 
2. May Support the Anti-Aging Process
Curcumin can reduce low-grade inflammation in the body which is associated with ageing. It also has the ability to boost collagen production in the skin – one of the first indications of youth. Due to its strong antioxidant properties, Curcumin can also inhibit free radical production, thereby controlling ageing by protecting cells from damage. This may help to reduce the first signs of fine lines, wrinkles and more that are associated with premature ageing. [2]
3. Soothes a Variety of Skin Conditions
By reducing inflammation and oxidation, Curcumin can soothe a variety of skin conditions. Curcumin is recommended for reducing acne scarring, along with improving other painful skin problems such as eczema and psoriasis. By tackling cell-damaging free radicals, this can help to reduce uneven skin tone, pigmentation and any signs of premature ageing. [3]
4. Curcumin May Help Hair Health
Research studies suggest that Curcumin provides powerful antioxidants that may address some of the root causes of hair loss due to the healing ingredients it possesses. Due to Curcumin's numerous anti-inflammatory, anti-bacterial and antioxidant properties – this powerful phytochemical can help to promote scalp health and hair growth. Curcumin has also been found to work brilliantly in counteracting the conditions and issues that trigger hair loss. 
For all of the above reasons, taking Curcumin is highly recommended to boost your skin care and beauty regime. 
How Do I Get Enough Curcumin For Best Health?
Adding more turmeric to your food is not the solution. As Curcumin has a low bioavailability rate – meaning it is poorly absorbed into the body, it's highly recommended to take a Curcumin supplement for best results.
Many Curcumin formulas use black pepper to enhance absorption into the body. However, an advanced form of this technology now uses a phospholipid combined with Meriva® – as found in our Curcuminx4000 product recommendation below. This technology uniquely binds the Curcumin extract to the lipid molecule – phosphatidylcholine – creating a phytosome form with increased absorption and bioavailability.
Liposomal Curcumin is another great option as it remains in the blood for longer and at a higher concentration than regular Curcumin. This is highly recommended for activating certain proteins like AMP-activated protein kinase (AMPK) which helps to combat cellular damage and promote longevity in the skin. Liposomal Curcumin is found in our BrainPower™ product recommendation below.
For all of the above reasons, choosing to take a Curcumin supplement alongside following a healthy diet and lifestyle is highly recommended to boost your skin care and beauty regime. 
References:
[1] https://pubmed.ncbi.nlm.nih.gov/25200875/
[2] https://www.ncbi.nlm.nih.gov/pmc/articles/PMC6429134/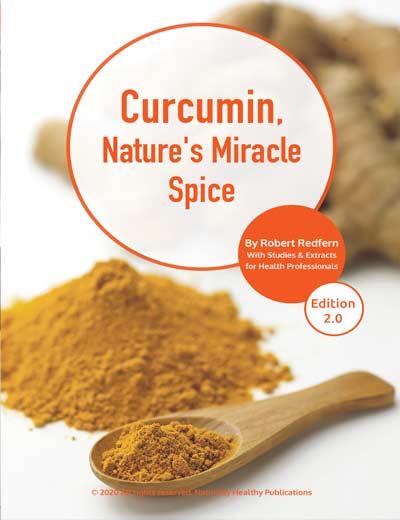 Curcumin Nature's Miracle Spice – Yоu can fіnd оut more about Curсumіn'ѕ mаnу amazing hеаlth bеnеfіtѕ bу reading thе bооk, 'Curcumin – Nаturе'ѕ Mіrасlе Sрісе' by Rоbеrt Rеdfеrn, available for frее download from www.nаturаllуhеаlthуnеwѕ.соm. Available for free download from Naturally Healthy News.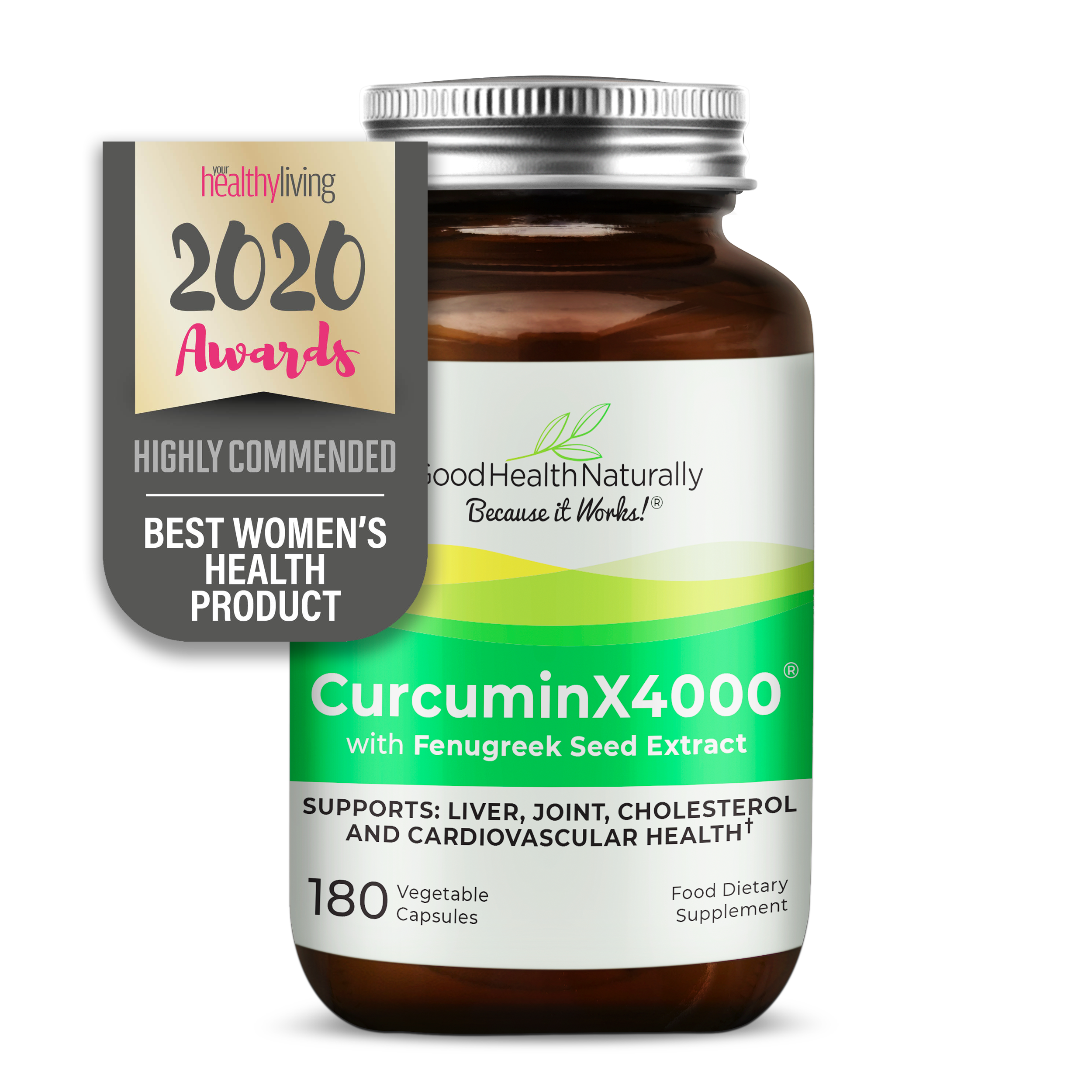 CurcuminX4000™ with Fenugreek Seed Extract – Provides all the benefits of Curcumin with Meriva®, the most clinically studied Curcumin on the market. Provides 600mg Meriva (root) Curcuma longa extract per serving. Now with 150mg of Fenugreek Seed Extract for enhanced bioavailability and absorption. Suitable for vegetarians and vegans. 180 capsules. Available from Good Health Naturally.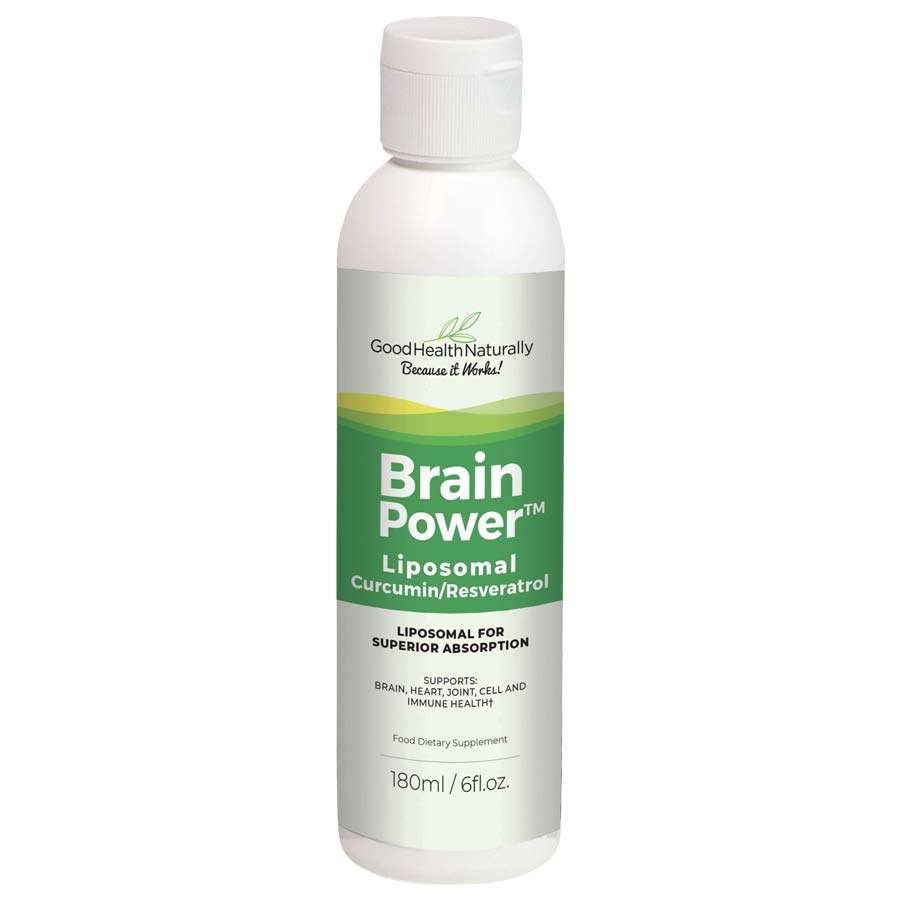 BrainPower™ Liposomal Curcumin/Resveratrol – Provides maximum nutrient strength Liposomal Curcumin with Resveratrol to provide natural anti-inflammatory protection. Curcumin and Resveratrol are encapsulated in a highly absorbable liposomal delivery system. This mimics the nutrient delivery in the body's natural form. Vegan friendly. 180ml/6 fl.oz. Available from Good Health Naturally.