Health News (Week 52 – 2017)
By Robert Redfern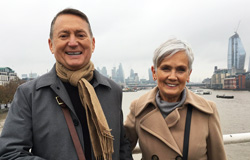 At the end of another year in the life of the many thousands of followers of my books and health plans, Anne, me and the whole team, simply want to say, 'Thank you'.
Thank You – For trusting us with your health and your future life.
Thank You – For your perseverance when the websites stretched your patience.
Thank You – For your belief when everything I said was totally opposite to what your doctors said.
A Special Thank You – To all those doctors, practitioners and nurses who I have managed to convince that natural health is better for recovery rather than the pharma/drug cartel and their expensive fake drugs that are now financially crippling those who have not yet found Natural Health. In my rantings about the failings of the medical system, I may have neglected to exclude yourselves from my criticisms.
An extra special thank you, to Dr. Wafaa of the Aware Clinic who wrote:
Dearest Awesome Good Health Team,

I want to send my special Holiday Greetings to you and tell you, not only you have helped in the health of myself, my family and my patients. But your commissions have contributed in my fees for applying and finishing the certification of Functional Medicine. Final Exams are in April 2018.

So, I want to thank you and wish you all the best in health, wealth and prosperity.

Kind regards,
Wafaa


Dr. Wafaa Abdel-Hadi, MD
Founder & CEO of Aware clinic
Clinical Oncology- Cairo University
Functional Medicine , IFM, USA
Cancer Prevention, Awareness & Genetic Counselling
Breast Cancer Educator & Supporter, Texas, USA
Certified Health Coach, IIN , USA
This lady and all of the other people put themselves at great risk as they are an easy target for the pharma/drug cartel and their guard dogs, the FDA, TGA or MHRA in the UK.
Remember:
All diseases are caused by incorrect foods, lack of nutrients and not walking enough. Start today to correct these and move towards Good Health.