Suffering from a migraine? Worse than an ordinary headache, migraine symptoms can cause excruciating pain and disorientation, making it difficult for sufferers to go about their daily routine. 
The cause of migraines is thought to be hormonally driven, affecting three-times as many women as men. [1] Being the third most common disease in the world, affecting around 1 in 7 people, it's estimated to affect 28 million women in the U.S.A alone, with 85% of chronic migraine sufferers being women.
Migraine Signs and Symptoms  
Along with the symptoms of a headache, migraine sufferers usually experience a throbbing sensation on either one or both sides of the head, along with sensitivity to light and sound. The excess electrical activity can cause a change in blood flow to the brain, affecting the brain's nerves, therefore causing moderate to severe pain. 
Other common migraine symptoms include confusion, vertigo, trouble speaking, numbness, nausea and vomiting. While some migraine headaches last for about 4 hours, more severe cases can last for more than 3 days. 
Could CBD Oil Be A Natural Solution For Migraine Relief?
A new review published in the journal Current Opinion in Neurology has found that Cannabidiol (CBD Oil) could alleviate the pain associated with migraines. [2]
CBD does this by influencing the function and activity of signaling pathways, targeting the receptors that play a role in pain control. The review also discovered that CBD suppresses the release of certain proteins linked to inflammatory pain. 
Another study compared the effects of using CBD with Amitriptyline – a Big Pharma drug for treating migraines. In this study, researchers treated the 48 patients with CBD and the results indicated an oral dose of 200mg reduced migraine pain by 55%. The participants' only reported side effect was drowsiness. [3]
How Does CBD Oil Work?
There's a natural cannabinoid in your body known as anandamide or the "bliss molecule" that can reduce pain and inflammation. When anandamide is deficient, painful migraines can occur. 
CBD also plays a powerful role in inhibiting an enzyme in the body's natural endocannabinoid system called fatty acid amide hydrolase, or FAAH. This enzyme keeps the ECS in balance by destroying excess endocannabinoids. 
CBD's role is to stop FAAH from functioning and this allows anandamide to stay active for longer. The longer it remains active, the longer it eliminates migraine pain.  
By acting on a cannabinoid in your body called anandamide or the "bliss molecule" this natural cannabinoid in the brain can reduce inflammation, preventing or even stopping migraine pain. 
Other studies show that CBD may reduce chronic pain by reducing the inflammation, along with interacting with the neurotransmitters. By combining CBD with THC, this may be a highly effective method of reducing pain associated with diseases like multiple sclerosis and rheumatoid arthritis. [4]
How To Get The Most Out Of Your CBD Oil 
Take a High Quality CBD Oil 
Choosing a high-quality CBD oil is recommended for best results in your health and wellness routine. It's essential to choose a CBD Oil product that comes under the highest-quality guarantee, with naturally occurring cannabinoid, flavonoid and terpenoid levels with each product. 
Ensure Maximum Absorption 
One of the best ways to ensure maximum absorption of CBD Oil into your body is to take it with a high-fat food. In a study by researchers at the University of Minnesota patients who ate high-fat foods after taking CBD greatly increased their absorption by 4-14 times. To avoid eating a late meal but still receive maximum CBD oil benefits, it's recommended to take it with a teaspoon of olive, coconut or avocado oil. 
Take Before Bedtime 
As one of the side effects of CBD Oil is that it can cause drowsiness in some people, it's recommended to take this supplement around 30 minutes before going to sleep. 
Choose a Full Spectrum CBD Oil 
When 'full spectrum' is referred to, it means that the CBD Oil contains cannabinoids that are naturally occurring in the cannabis plant. Additional cannabinoids have been shown to have benefits for neuroinflammation. 
Guaranteed Premium Gоld Quality CO2 Hemp Extract 
CBD Oil is made with ingredients extracted using advanced equipment designed solely for CO2 cannabis processing. This ensures a minimum саnnаbіdіоl (CBD) concentration іѕ guаrаntееd. 
Tо rесеіvе mаxіmum hеаlth bеnеfіtѕ, іt'ѕ еѕѕеntіаl that the аmоunt оf CBD Oil being еxtrасtеd ѕеtѕ the gоld standard bу providing a ѕаfе, rеlіаblе, therapeutic, and guaranteed percentage оf CBD in each drор dоѕеd. Thаt'ѕ whу wе hіghlу recommend CANNA10 CBD Oil.
Whу CANNA10 аnd CANNA30 CBD Oіl?
We recommend CANNA10 CBD Oil available from Good Health Naturally. Manufactured in the UK with the highest quality guarantee, it is 100% safe and legal to consume, adhering to all current government legislation. 
Providing whole plant, broad spectrum cannabis extract produced from organcially grown USA hemp, CANNA10 CBD Oil is completely THC free, containing whole plant, broad spectrum cannabis extract that not only contains CBD but also CBC, CBN and CBG cannabinoids in every drop. 
The combined consumption of various cannabinoids and terpenes (the natural smells and flavours produced by the cannabis plant and are unique to a particular strain), offers benefits that are superior to taking a single cannabinoid in isolation. The cannabinoids act in harmony with each other – synergistically increasing the overall effect.
Independently laboratory tested to guarantee CBD potency, quality and purity, CANNA10 CBD Oil is packaged in glass packaging with a pipette to ensure product stability and a precise, therapeutic dosage. 
CANNA10 High-quality CBD Oil has a pure and clean, fresh, yet mild peppermint flavour with no unpleasant aftertaste. 
How to take CANNA10 CBD Oil
A few drops are recommended morning and night, increasing to half a pipette twice a day. It is advised to keep the oil under the tongue without swallowing, for as long as possible, this allows for maximum absorption.
Don't Just Take Our Word For It…
Here are some of the great testimonials we've received from happy customers who have taken Cannabidiol (CBD Oil) and CBD Oil in the award-winning Ancient Magnesium Cream Ultra and CBD Oil to improve their health conditions…
Canna10 CBD Oil
"I do feel that discomfort with osteoarthritis in my neck has been palpably eased and as a result of this lessening of discomfort I'm having fewer migraines. The buy-one-get-one-free offer has been very helpful this time and I appreciate this. I do understand it is an expensive product to make but this eases the burden." Mr Boyd
Ancient Magnesium Cream Ultra & CBD Oil
"Ancient Magnesium Cream Ultra & CBD Oil – An excellent product, felt the calming effects with reduced anxiety and a better quality of sleep almost immediately. Also quickly absorbed into the skin leaving it feeling conditioned and moisturised. Would highly recommend" – Emma Morgan
References:
[1] https://www.who.int/mental_health/management/atlas_headache_disorders/en/
[2]  Tassorelli C, et al. "The endocannabinoid system in migraine: From bench to pharmacy and back." Curr Opin Neurol. 2019;32(3):405-412.
[3] Shannon S, et al. "Cannabidiol in anxiety and sleep: A large case series." Perm J. 2019;23:18-041.
[4] https://www.ncbi.nlm.nih.gov/pmc/articles/PMC4851925/
[5] Birnbaum A, et al. "Food effect on pharmacokinetics of cannabidiol oral capsules in adult patients with refractory epilepsy." Epilepsia. 2019;60(8):1586-1592.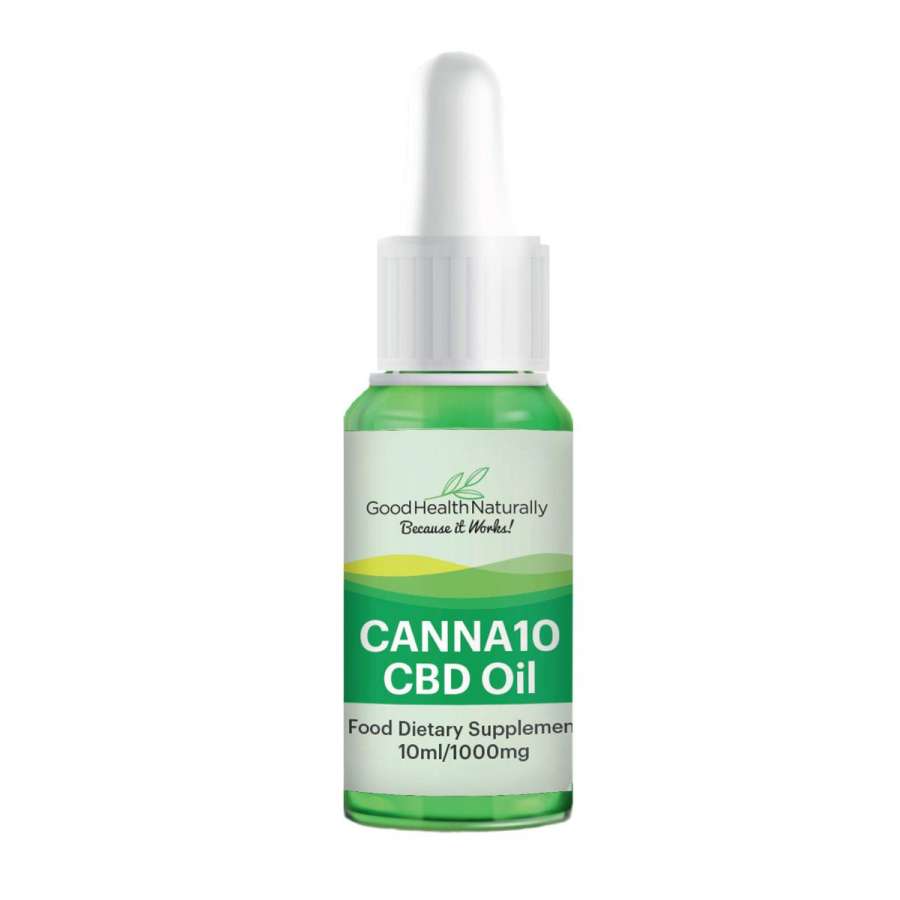 CANNA10 CBD Oil 10% – 10 percent guaranteed CBD. 3.3 mg of CBD per drop; about 400 drops per product. Safe, legal and scientifically backed. Premium Gold Co2 Hemp Extract. Produced in Poland with Highest Quality Guarantee. Reliable, Guaranteed Levels of CBD. Extra benefits from naturally occurring cannabinoids, flavonoids and terpenoids. Available from Good Health Naturally (UK / Europe & Canada only).
Ancient Magnesium Cream with CBD Oil – Our award winning magnesium cream with OptiMSM and CBD Oil is 100% natural, safe and non-intoxicating. Provides support for emotions, pain, distressed skin and cell health, along with faster relief of headaches and migraines. Available from Good Health Naturally.