Any woman who has struggled to get pregnant knows the heartache of wanting to start her own family. It's estimated that 1 in every 10 couples of childbearing age have problems with infertility.

IVF and fertility drugs can be expensive and time consuming, leaving many couples feeling defeated and as though they will never achieve the family they long for.
Many women suffer with blocked fallopian tubes or ovarian cysts that prevent pregnancy from occurring. While painful conditions such as Endometriosis can lead onto infertility in about 5 per cent of cases…
The good news is that Serrapeptase provides a safe, fast and effective solution. As a naturally occurring enzyme, Serrapeptase works to dissolve inflammation within the fallopian tubes for example. The inflammatory (dead, or non-living) tissue is then safely and naturally eliminated by the body, leaving the living tissue safely intact. By effectively clearing the blocked scar tissue and inflammation, the body is then naturally capable of healing and repairing itself.
Once the fallopian tubes or ovaries are clear, many women find their chances of pregnancy increase greatly. In fact, many women go on to conceive their babies naturally by taking Serrapeptase as part of a dedicated fertility health plan.
Robert Redfern's daughter-in-law, Sian, is a perfect example. She took Serrapeptase and followed his healthy diet and lifestyle plan accordingly and experienced fantastic results. Here is what Sian says, in her own words…
"Like many of today's females I had decided to leave having babies to later in life but then I discovered I had numerous problems with spontaneous miscarriages, which the medical system had no successful solutions for. Like many women, I was getting desperate and so I started on my father-in-law Robert Redfern's plan. It was not an obvious move for me but I did ask for help and took the supplement plan and diet recommendations on board.
The plan was fine and I became pregnant. Things were okay at first but on my first scan the medics noticed a growth and they said this was probably a fibroid. I increased the iodine drops and started following the diet to clear this, but I miscarried. I then decided to keep to the plan and the growth was gone in as little as eight weeks.
After this I took the plan extremely seriously and followed the diet which is critical. I stopped all carbohydrates and sugar, along with alcohol, and kept to the Really Healthy Foods plan as advised by Robert. The supplement plan was also tightened and improved. I became pregnant again and kept to the diet and plan meticulously. This time everything went like a dream and my son Jacob finally started his new life."
Healthy babies start with a healthy body. This means clearing inflammation from the body and taking the right nutrients for best results. Once the healthy pregnancy plan is followed consistently, improvements are often see in a few short weeks.
Men Can Improve Their Fertility Health Too…
If your male partner is the one experiencing fertility troubles, then Serrapeptase can help with Erectile Dysfunction (ED) and Peyronie's Disease that can affect a male's sexual performance.
By clearing the fibrous plaques that grow within the soft tissue of the penis, this can cause pain, erectile dysfunction, abnormal curvature, loss of girth, indentation, and shortening amongst other problems. Serrapeptase can clear the inflammation causing these problems and from here, the condition should naturally improve.
Along with taking the recommended nutrients for strong sperm and ejaculation as suggested in Robert's dedicated male fertility health plan, it's possible to improve your sperm count.  Take a look at some of the testimonials below…
"Your recommendations have helped me greatly. I am taking the SerraPlus on a regular basis along with the Curcumin. I am already beginning to see an improvement to my overall health and after four unsuccessful attempts, I can now report that me and my wife are now expecting a baby. We are made up and want to thank you for suggesting serrapeptase to us."
Jon B, Wales
"I was beginning to give up hope. My wife and I have tried IVF in the past to little success. I'm now trying the SerraPlus, the Curcumin and the Nascent Iodine in the hopes that it will make a difference. I will keep you informed, but so far I am feeling much better already…"
Liam T, London
Already Expecting…?
If you and your partner are already expecting a new arrival, then Serrapeptase can still form a healthy part of your pregnancy and afterwards during the breastfeeding process.
Many people ask if Serrapeptase is safe to take during pregnancy and the answer is yes. However, you now need a dedicated healthy pregnancy plan to support the amazing changes going on in your body during this time.
Following Robert's dedicated healthy eating and lifestyle plan along with his Healthy Pregnancy recommendations can make a big difference to your overall health.
Take a look at this great healthy pregnancy testimonial from Rina…
'Serrapeptase gave me an easier, healthier pregnancy'
"My pregnancy with my first baby was horrible. I couldn't get up, eat or drink anything without vomiting. I was always dizzy and weak. Because of this, I dreaded any future pregnancies, thinking it might all be the same.
When we were ready for the second baby, I wanted it to be a different experience for both me and my husband. I wanted to be stronger and to feel better while I carried my baby in my womb so I decided to try Serrapeptase as I was told that its tried and tested to be safe for pregnant women and that it helps clear out any inflammation in the body. Truly, I've never felt better. It gave me an easier, healthier pregnancy. My baby was born last March and she's very healthy. I will continue taking this while nursing and breastfeeding."
Rina D., Canada
Not sure which Serrapeptase product or health plan to follow? Take a look at some of the recommended examples below. Improving your fertility and enjoying a healthy pregnancy are vital for your own best health and wellbeing…and Serrapeptase can play an essential role in this process.
Recommended Examples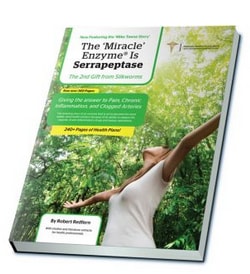 Discover this enzyme's many amazing health benefits in 'The Miracle Enzyme is Serrapeptase' book by distinguished health expert and nutritionalist Robert Redfern. In addition, this remarkable book also contains detailed plans for over 240 health conditions.
'Improving Fertility in 30 Days' by Robert Redfern is the recommended book for women looking to clear their fallopian tubes and enjoy a healthy pregnancy. This book will show you how to improve you and your partner's fertility health, and create a healthy baby.

By following the nutrient recommendations and dedicated health and lifestyle plan, it's possible to see significant improvements in your fertility health – often in as little as 30 days.
Serra Enzyme™ 80,000IU
– Contains 80,000IU of the Serrapeptase enzyme and available in delayed release capsules or enteric coated tablets. Serrapeptase helps dissolve inflammation and support the body's natural healing process.
SerraEnzyme™ 250,000IU
– This is a high strength formula containing 250,000IU of Serrapeptase. Thus, it helps in providing fast relief from inflammation and the symptoms of pain that can result in various health conditions.
Serranol™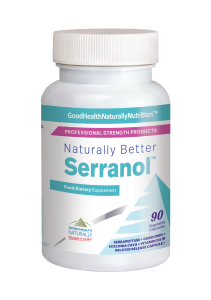 – This is a combination formula of 80,000IU Serrapeptase, Ecklonia Cava, CurcuminX4000™ and Vitamin D3. These core nutrients, combined together, can provide a super supplement that studies show targets dozens of health and age-related issues.
SerraPlus+™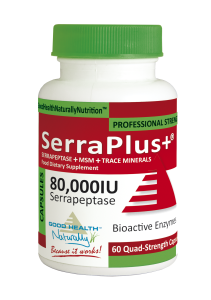 – This is a high dosage formula of 80,000IU delayed release Serrapeptase. In addition, it also has MSM and trace minerals. This is ideal for supporting normal lung, joint, tendon and connective tissue health.
SerraPet™
 – Contains 80,000IU of Serrapeptase that can support the normal bodily processes of your pet or animal's health. SerraPet contains Nutrateric Enteric Coated tablets for optimum performance and powerful anti-inflammatory action.