Bergamot is renowned for its heart health benefits and has been shown in 11 pre-clinical and 4 clinical studies to support claims that bergamot can lower your cholesterol levels.
What Is Bergamot?
Grown in the Calabria region of Southern Italy, Bergamot is a bitter citrus fruit that has a unique profile of both flavonoids and glycosides that compound its cholesterol-reducing benefits. 
Derived from the Bergamot plant, its super potent fruit juice extract contains a high concentration of unique flavonoids that have powerful anti-inflammatory agents that play an active role in reducing extra-high LDL or "bad" cholesterol levels, while also increasing HDL or "good" cholesterol levels that are associated with a decreased risk of heart disease. 
Bergamot Studies Into Cardio and Heart Health 
The most recent study showed that a Bergamot-derived extract when given at a fixed dose daily (150mg to 80 people who had moderate hypercholesterolemia for 6 months), indicated a decrease in plasma cholesterol and sub-clinical atherosclerosis (measured by carotid intimal wall thickness) at the end of the study period. [1]
Four clinical studies in humans evaluated bergamot's effect on dyslipidemia (an abnormal amount of lipids, cholesterol or triglycerides in the blood). The first study involved significant reductions in glucose levels in the bergamot treated group, suggesting that bergamot has complex effects on overall metabolic regulation. [2] 
Bergamot has been shown to raise HDL "good" cholesterol. One study from 2013 also showed that cholesterol dropped significantly in 77 patients who took 1000mg of bergamot extract daily for one month. This enabled them to cut their statin dose in half. [3]
The third study in 2014 evaluated the effect of bergamot in 107 patients. Taking place over a period of two months, the study confirmed the beneficial effects of bergamot on cholesterol profiles and resulted in a reduction in liver steatosis, or fat in the liver. [4]
Can Bergamot Lower Cholesterol?
The above studies suggest that Bergamot plays a vital role in lowering and managing "bad" cholesterol. 
Bergamot can also help you to maintain healthy heart function. Recently, 80 study participants were treated with 150 mg of pure bergamot flavonoids a day for six months, equivalent to 550 to 600 mg of the Bergavit™ ingredient. The results of these studies showed that Super BERGAVIT Bergamot 40% may protect the health of the heart because of its impact on cholesterol. [5]
Bergamot flavonoids can reduce and control "bad" lipid levels, i.e., LDL, total cholesterol, and triglycerides, while helping "good" HDL levels to increase. Study participants with the highest "bad" cholesterol saw the greatest reduction when taking Bergavit™. [6]
Bergamot may also support metabolic wellness. Bergamot flavonoids are known as exceptional metabolic regulators, with the potential to fight metabolic syndrome. Metabolic syndrome, often characterised by carrying extra weight, can skyrocket the risk for both cardiovascular disease and diabetes. Controlling lifestyle factors related to obesity can help to improve heart health and metabolism, as can taking bergamot flavonoids each day. [7,8]
Bergamot supplementation has been proven to greatly enhance patients' metabolic profiles, considered superior to just making changes to diet. For those concerned about the cost and the side effects of cholesterol-lowering drugs, supplementing Super BERGAVIT Bergamot 40% offers an affordable and natural solution. Since Bergavit™ maintains cholesterol as well as metabolism, weight loss may also be an added benefit.
Remember, cholesterol isn't the enemy. Your body needs to cholesterol to balance hormones, support brain function and defend the arteries and other systems against inflammation. When inflammation occurs it can cause cholesterol to harden, creating dangerous conditions brought on by lifestyle disease.
Are Bergomot Supplements Safe?
Taking Bergamot supplements is generally considered safe. Any side effects reported from taking Bergamot Oil and are generally very mild. When taken as a Bergamot supplement any of these contraindications are removed as you are taking a Bergamot extract which has been formulated for safe digestion. 
Why Take Bergomot Before Meals?
Taking Bergamot with food is recommended because its the easiest way for it to absorb into the bloodstream. From here it can deliver its antioxidant benefits that may provide powerful support the heart and cardiovascular system. 
Bergamot – Where To Buy?
As we only recommend the purest Bergamot, we suggest only the highest-quality Bergamot supplements. HeartPower+™ from Good Health Naturally contains BERGAVIT™ Bergamot, the Citrus aurantium bergamia fruit extract that's standardized to 40% flavonoids. 
Super BERGAVIT Bergamot 40% can help to lower and manage "bad" cholesterol, maintain healthy heart function and support metabolic wellness. 
Anyone concerned about the cost and side effects of cholesterol-lowering drugs will find Super BERGAVIT™ Bergamot 40% an affordable and natural solution to maintaining their cholesterol and metabolism. Weight loss may also be an additional benefit.
References:
[1] https://www.ncbi.nlm.nih.gov/pubmed/26779019
[2] https://www.ncbi.nlm.nih.gov/pubmed/21056640
[3] https://www.sciencedirect.com/science/article/pii/S2214762416300032
[4] https://www.ncbi.nlm.nih.gov/pubmed/24239156
[5]  https://www.sciencedaily.com/releases/2019/03/190307081026.htm
[6] https://www.fasebj.org/doi/10.1096/fj.201802477R
[7] https://www.cambridge.org/core/journals/proceedings-of-the-nutrition-society/article/flavonoids-as-antiinflammatory-agents/22B54898AA99E73BE86DC4E589E6B1E4
[8] https://www.ncbi.nlm.nih.gov/pubmed/26156545
Helping Heart Health By The Book – Discover how to naturally improve your heart health with the nutrient and lifestyle recommendations recommended in this book. Written by renowned health coach and author Robert Redfern. Available as a free download from Naturally Healthy News.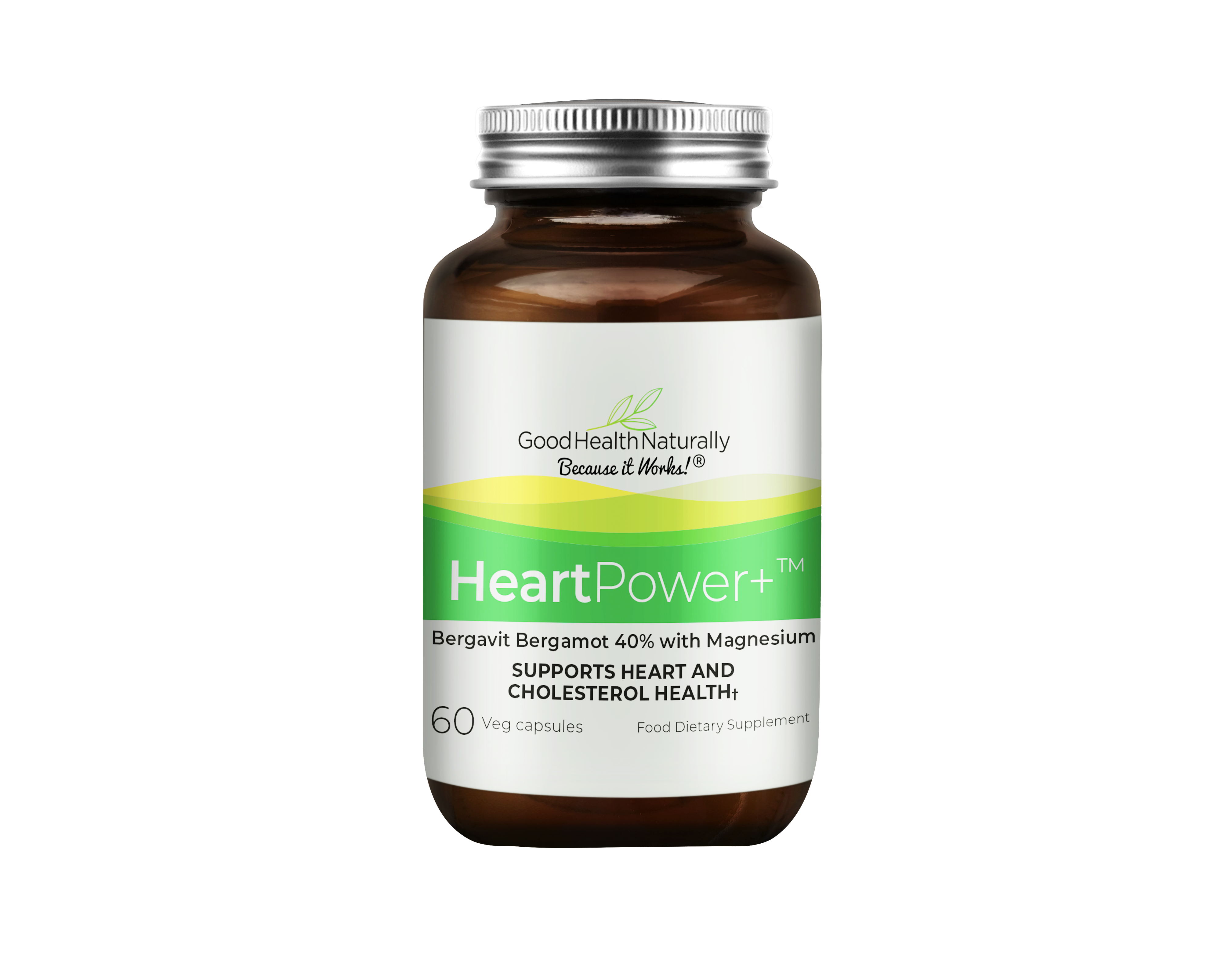 HeartPower+™  – Contains BERGAVIT™, a standardised extract containing the main active flavonoids of bergamot juice, plus magnesium citrate. Bergamot fruit contains natural polyphenolic antioxidants linked to improving cardiovascular health, fighting inflammation, and weight management. Higher levels of magnesium are also associated with a lower risk of CVD. BERGAVIT™ provides clinically documented natural support for healthy cholesterol levels, showing it is able to reduce plasmatic "bad lipid" levels (total cholesterol, LDL and triglycerides) and increase "good" HDL levels. Bergamot flavonoids are exceptional metabolic regulators, potentially improving blood glucose metabolism, weight loss and metabolic syndrome. 60 capsules. Vegan. Available from Good Health Naturally. 
Blockbuster™ AllClear – Contains 80,000IU of Serrapeptase and Nattokinase to support normal artery and cardiovascular health.  Available from Good Health Naturally.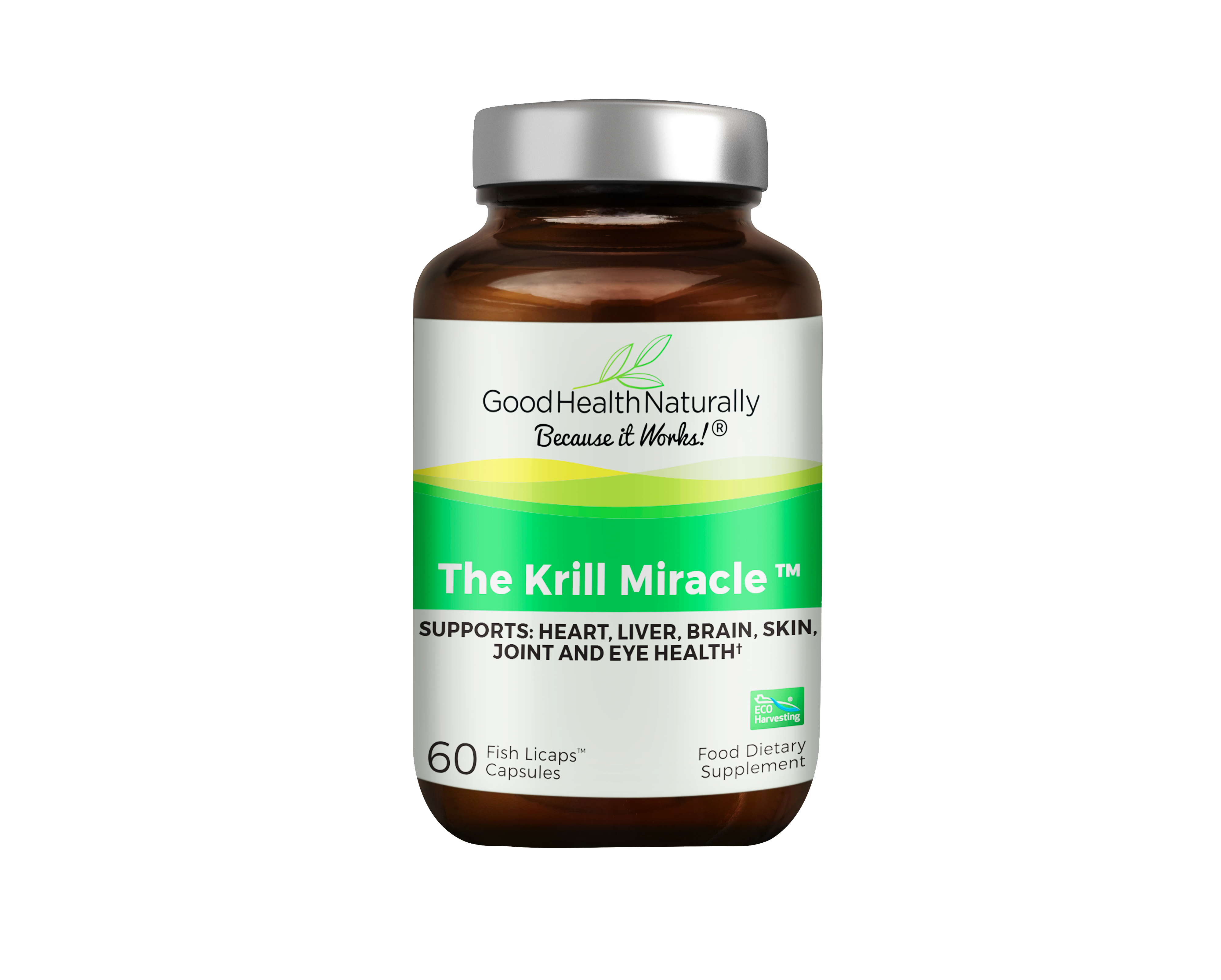 The Krill Miracle™ – Made with Superba Boost™ Krill Oil, a next generation krill oil concentrate. Contains a super rich source of Oega 3, 6 and 9 oils. Supports anti-inflammatory processes and may be beneficial for joints, imune, cardiovascular health, brain function and skin health. Available from Good Health Naturally.