Curcumin may help to reverse tobacco induced damage that plays a major risk factor in lung cancer according to a recent study. Epithelial-mesenchymal transition (EMT) plays a decisive role in cancer invasion and metastasis and this can therefore promote the progression of cancer. Mitogen-activated protein kinase (MAPK) pathways are involved in various aspects of cancer development and progression, including the EMT process.

Curcumin has been reported as having a chemopreventive effect on carcinogensis as has been reported in vivo and in vitro. The present study also investigated tobacco smoke-induced alterations in the MAPK/activator protein-1 (AP-1) pathways, along with pulmonary EMT changes in the lungs of mice after further observance was noted of the chemopreventive effects of Curcumin.
Protein expression levels were analysed by western blot analysis and demonstrated that after 12 weeks of tobacco smoke exposure, extracellular-signal-regulated kinase (ERK), along with c-Jun N-terminal kinase (JNK) and p38 MAPK pathways were reduced. In addition to AP-1 in the mice of lungs, the ERK5/MAPK pathways were also reduced.
Results also indicated that the mRNA and protein levels of epithelial markers E-cadherin and zona occludens-1 were reduced following exposure to tobacco smoke. Conversely, expression levels of mRNA and protein for the mesenchymal markers vimentin and N-cadherin were increased. Treatment of Curcumin was also found to inhibit tobacco smoke-induced MAPK/AP-1 activation, including ERK1/2, JNK and p38 MAPK pathways, AP-1 proteins along with reversed EMT alterations in lung tissue.
The results of the present animal based study provide new insights into the molecular mechanisms of tobacco smoke associated lung cancer. Curcumin may be one of the avenues that can provide potential therapy in lung tumorigenesis. This study gives promise to the idea that Curcumin may help to reduce tobacco induced damage within the lungs.
Curcumin's Role In Supporting Lung Health
A recent study found that lung cancer may be preventable with Curcumin. The scientists discovered that the major compound found within turmeric could prevent or even cure a lung cancer type known as non-small cell lung cancer.
The study involved a group of test subjects eating a diet containing 0.6% Curcumin, supplementing for 14 days before receiving the human lung cancer cells. By comparison, the control group ate the same diet without Curcumin and were exposed to the same amount of lung cancer cells.
Results indicated that test subjects eating a diet high in Curcumin developed tumors 36% smaller than those in the control  group. The scientists also found that Curcumin supplements can down-regulate the expression of inflammation biomarkers, promoting apoptosis within cancer cells.
All of this holds promise that Curcumin could support good lung health by potentially preventing the growth of cancers. Supplementing with Curcumin is recommended as this is the most effective means of ensuring it is absorbed within the bloodstream.
Recommended Examples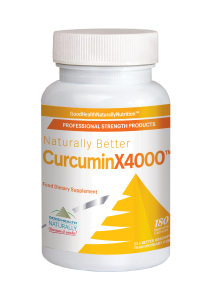 Curcuminx4000™ – This formula contains 200mg of Curcumin Phytosome and 600mg of Meriva® (root) Curcuma longa extract. A recent study showed an increase in utilisation by up to 20-45x compared to ordinary Curcumin. The recommended dosage is 2 capsules, 3 times daily for best results. Available from Good Health Naturally.