The compound known as Curcumin, a constituent found in the Indian spice turmeric could provide protection for lung damage in infants, according to a recent study.

Premature infants often require ventilator assistance and forced oxygen therapy when they're born with inadequate lung function and it's these therapies that can cause considerable lung damage and even result in death.
Researchers behind the study that was published online by the American Journal of Physiology, Lung Cellular and Molecular Physiology, found that Curcumin can provide protection against scarring and inflammation in the lungs, characterised by a condition known as Bronchopulmonary Disease (BPD). They also discovered that Curcumin can provide protection against hyperoxia, where too much oxygen is entering the lungs – up to 21 days following a birth.
This is one of the first studies to show that there are long-term benefits to taking Curcumin on a daily basis, especially for premature infants, according to the lead researcher who authored the study.
It's believed that Curcumin can have potent antioxidant, anti-inflammatory and anti-microbial properties and it is this that can make a promising therapy for those premature infants who require oxygen therapy following a birth.
Infants and small children with lung problems may therefore benefit from taking Curcumin to improve their symptoms. For maximum effectiveness it's highly recommended to take 1-2 Curcumin capsules mixed with Coconut Cream or Coconut Milk before giving to an infant.
Recommended Examples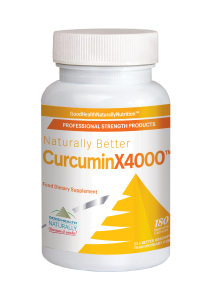 Curcuminx4000™ is the recommended Curcumin supplement from Good Health Naturally. It contains the active compound found in Turmeric – 600mg of Meriva® (root) Curcuma longa extract for increased antioxidant capacity and superior anti-inflammatory properties. It can support normal eye heath, the digestive system, liver and gallbladder amongst other benefits and is highly suggested to take the capsules for maximum absorption and effectiveness.
Curcumin Can Protect Infants from Lung Damage| www.naturallyhealthynews.com