Astaxanthin can lower the heart rate of athletes during exercise, according to a new study. Taking a daily dose of 12mg of Astaxanthin can reduce heart rate by 10% during long distance running.

By comparison, no impact was seen at higher intensities in a double-blind, parallel-design study involving 28 recreational runners. The average age of the runners were 42 and they were randomly assigned Astaxanthin supplements.
One of Astaxanthin's main benefits is that it can improve cardiovascular function. Less strain was also shown after taking the Astaxanthin supplement or a placebo for eight weeks.
Natural Astaxanthin was shown to improve overall cardiovascular function. The subjects in the study were found to perform the same amount of 'work' while lowering the cardiovascular 'strain' after taking an Astaxanthin supplement.
The study's implications show the potential benefits for anyone who is concerned with their cardiovascular health. Results are being published in conjunction with other clinical results in a strong peer-reviewed journal later on this year.
Astaxanthin has also been shown to be a beneficial ergonomic aid for ultra-long distance endurance athletes. Yet this isn't necessarily the case for athletes competing in shorter and more high intensity efforts. The data also suggested there was a 'cardiotonic' effect and called for further investigations into non-athletic populations including the elderly and those with cardiac complications.
The study did not look into how Astaxanthin positively affected mitochondrial function. Astaxanthin protects the mitochondria from oxidation, heat stress, membrane damage and inflammation. This allows energy production without doing as much work.
Adding an Astaxanthin supplement into your daily regime may help to support your cardiovascular health in the long-term. For best results, we recommend taking it with Docosahexaenoic acid (DHA), an omega-3 fatty acid that's naturally found throughout the body and is most abundant in the brain, eyes and heart.
DHA and EPA Benefits:
DHA and EPA contribute to the normal function of the heart (0.25g per day); maintenance of normal blood pressure (3g per day), normal blood triglyceride levels (2g per day) and normal blood triglyceride levels (2g per day in combination with EPA).
DHA also contributes to normal brain function (0.25g per day), normal vision (0.25g per day), development of the foetus and breastfed infants (0.2g DHA plus the daily recommended intake of omega-3 fatty acids).
Normal development of the eye of the foetus and breastfed infants (0.2g DHA plus daily recommended intake of omega-3 fatty acids (EPA+DHA) for adults which is 0.25g per day.

Adding the antioxidant astaxanthin to the Omega-3 fatty acid reduces its susceptibility to oxidation while making its immuno-modulatory properties more potent.
Recommended Examples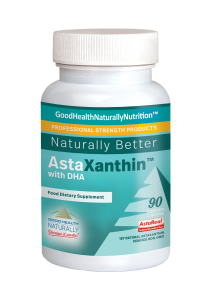 AstaXanthin™ with DHA  – This is a naturally occurring powerful biological antioxidant, available in vegetable capsules from Good Health Naturally. It contains 12mg of AstaReal® Astaxanthin 10% and 180mg of DHA Oil. AstaXanthin™ may support immunity, energy, metabolism, reproduction and eye conditions amongst other health benefits.